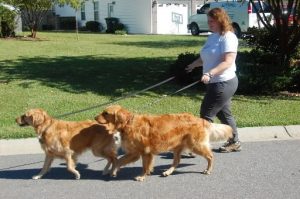 Carol has been in the pet care industry for over 15 years and holds CPPS certification with Pet Sitters International. Obtained bonding and insurance with Business Insurers of the Carolinas, as well as being Background Check Verified. Carol, along with part time staff, have done the Red Cross Pet First Aid course. Carol is a licensed business owner that works full time as a pet sitter. Most of all Carol and her staff love your pets as if they were their own.
What is a "Certified Professional Pet Sitter?"
Pet Sitters International's Certification Program is an in-depth educational coursework that has been tailored exclusively for pet sitters.
The curriculum includes topics on Pet Care, Health & Nutrition, Additional Services and Business & Office Procedures. The coursework was developed with input from the most knowledgeable professionals in the pet-care industry to provide the best in pet education to our members.
What You Get with a PSI Certified Pet Sitter:
When you engage the services of a PSI Certified Pet Sitter, you are also gaining access to someone with the in-depth knowledge and skills necessary for providing superior in-home pet care.
This program was developed by PSI exclusively for its members. The coursework was created to promote high industry standards and provide a continuing education curriculum to keep accredited pet sitters at the forefront of modern pet-care practices.
The Certification Program is designed to provide a complete and well-rounded educational experience for a professional pet sitter. To become Certified, the pet sitter must master and exhibit a working knowledge of caring for pets of all species–from cats and dogs to reptiles, amphibians, and more. A PSI Certified Pet Sitter also knows how to run an efficient, effective pet-sitting business model.
You can rest assured your pet sitter has been rigorously tested on companion animal care—and passed all tests—when you see the mark of a PSI Certified Professional Pet Sitter.
Credentials, Certifications and Awards